"I can do all things through Christ who strengthens me." Philippians 4:13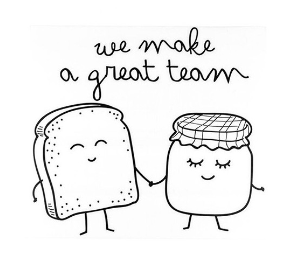 Sometimes we need a moment of gratitude and thankfulness for the learning environment that we have at our school. What a beautiful place to be!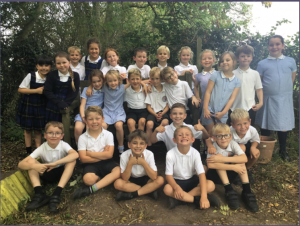 The Great Plague. Autumn 2.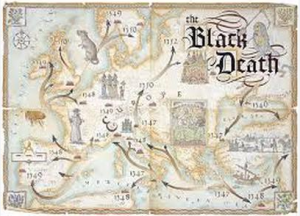 Below is our Topic Web showing you all that we will be doing this half term, in the weeks leading up to Christmas.
Web Topic Planner
This half term, we have another fantastic topic where we will be building on our prior knowledge about The Great Fire of London, and we will be learning about The Plague.
Hello Yellow Day October 2023.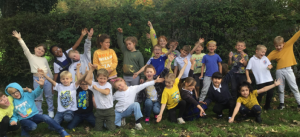 🤍We had a lovely day talking about the importance of looking after our minds. We enjoyed discussing the ways that we can keep our minds healthy, calm and happy. 🤍
Terrible Tudors. Autumn 1.
Welcome back to a new school year! We are so excited to hear all about your summer holidays and get started with our AMAZING topic! Please make sure you check dojo daily for photographs and updates. We look forward to seeing you at our Meet the Teacher meeting in a couple of weeks time.
Web Topic Planner
Passport To Europe. Summer 2.
Wow! I can't believe we are heading into our final half term of the year! We have another wonderful half term of learning in store! This half term we will be jet-setting around Europe! We have a really lovely, busy half term ahead of us. Keep a close eye on dojo for more pictures and updates.
Web Topic Planner
Newsletter
What The Romans Did For Us. Summer 1.
I hope you've all had a wonderful Easter break with your families and are ready for the summer term! This is going to be another amazing topic for us to dive in to!!!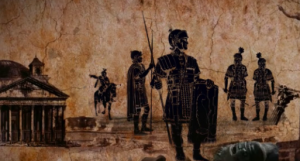 Web Topic Planner. Summer 1
Enterprise Newsletter
The Art of Food. Spring 2.
We have another lovely topic for this half term! Have a read over our Topic Web and Newsletter so that you are up to date with all the learning that will take place in the lead up to Easter.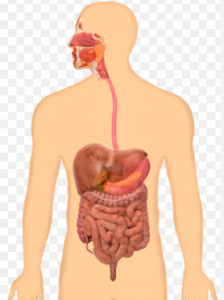 Web Topic planner Spring 2
Enterprise Newsletter
Multi Faith Week March 2023.
This Year KS2 learned about Buddhism. We had a wonderful visit to the Buddhist temple in Preston and enjoyed learning about this wonderful faith. We made comparisons to other religions and found similarities.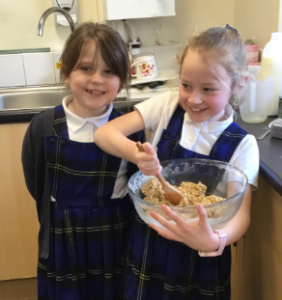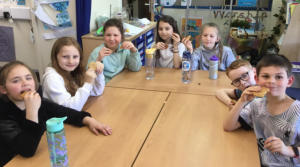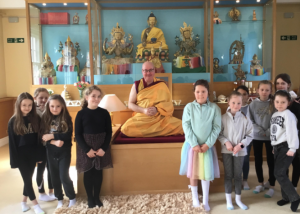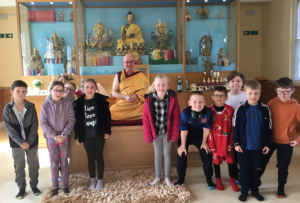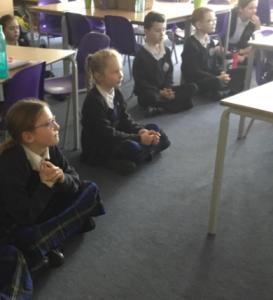 World Book Day 2023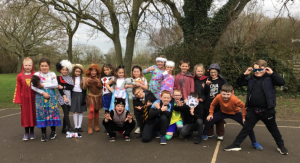 What a day we had celebrating World Book Day 2023! Who can you spot?
Rock and Roll. Spring 1.
Welcome back! We hope you have had the most amazing Christmas break and feel rested. We have got such an exciting term ahead of us and we can't wait to get started!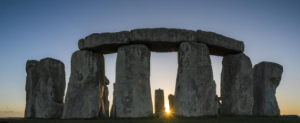 Please take a look at our topic web and newsletter that will guide you through the learning and topics taking place this half term.
Web topic planner Spring 1
The children worked incredibly hard to create Stone Age art that looked as authentic as possible. We made our own stencils for printing and worked collaboratively in groups to re create cave art using a variety of equipment.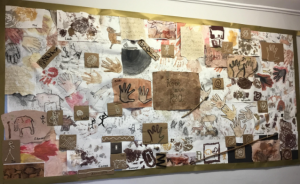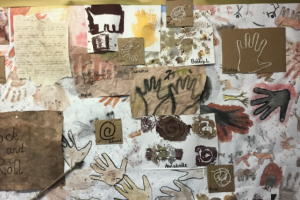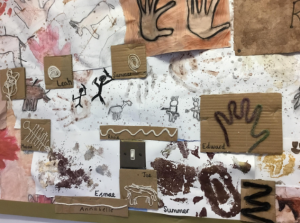 We have had the most amazing end to our Stone Age topic and spent the day in Forest School! We worked in groups to build a den from branches and logs we had foraged for on the ground. We then found suitable sticks and sharp stones to make spears in order to protect ourselves from dangerous predators or kill wild animals for food. Once our shelter and weapons were complete, we enjoyed making natural paint using crushed berries and flowers, mixed with mud and water.
Sparks Might Fly. Autumn 2.
Welcome back to autumn term two! We have had the best start to the year and cannot wait to continue learning with our amazing 'Team Enterprise!'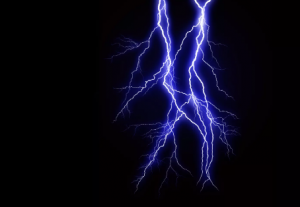 Our new topic is 'Sparks Might Fly'! All about electricity so we will become super scientists over the coming weeks.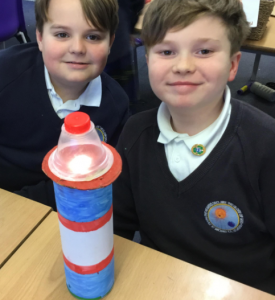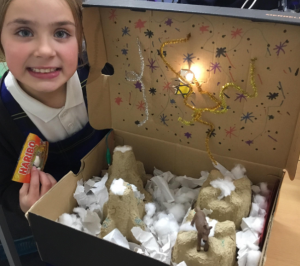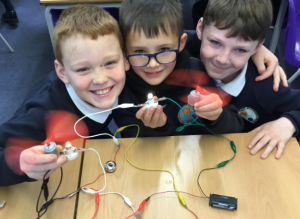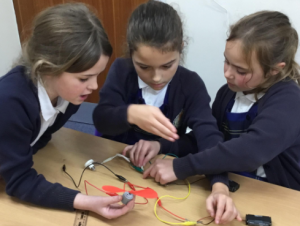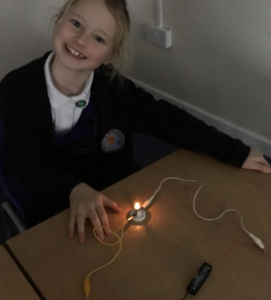 We have also got so many enrichment opportunities coming up such as WW2 week, Christmas writing week and anti-bullying week.
Have a read of our topic web below to find out in more detail what we will be getting up to.
Anti Bullying Week 2022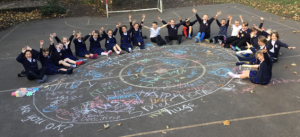 World War 2 Week November 2022
We have had such a wonderful week celebrating and remembering the brave soldiers who fought in the war.  We enjoyed looking through an evacuee suitcase, visiting our own air-raid shelter, writing a story as an evacuee and doing lots of art work.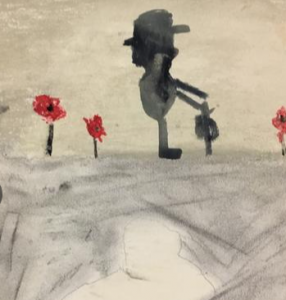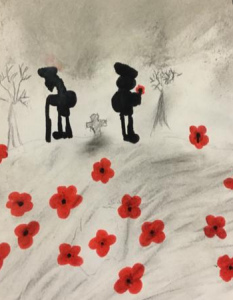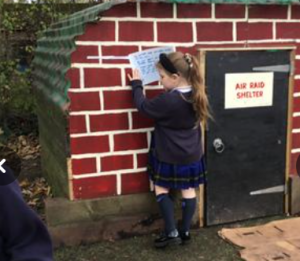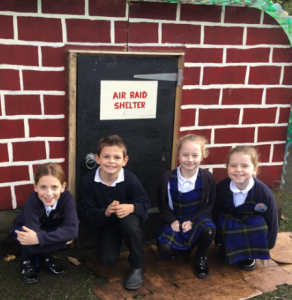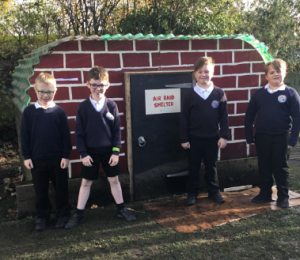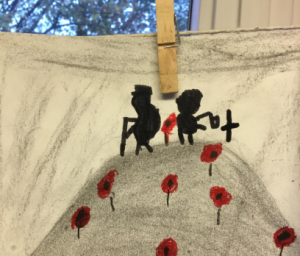 Autumn 1.
We will be looking at health, well-being and fitness during this unit. It links our science, DT, PE, art and PSHE beautifully, to highlight the importance of making the right food and exercise choices 🙂 We will also look at balance and make sure the children know treats and time to relax are important too.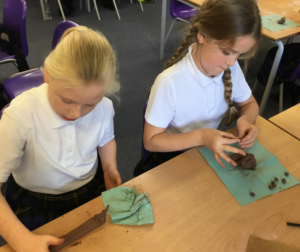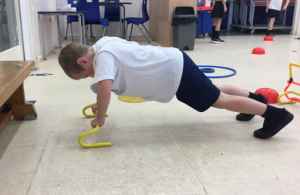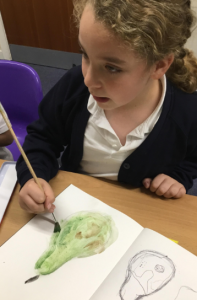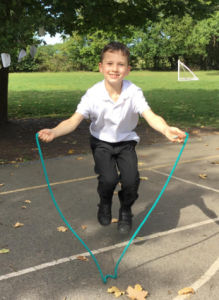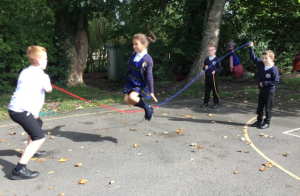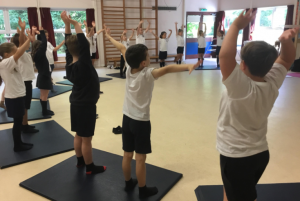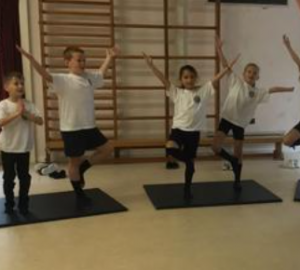 A trip to Den-geneeers!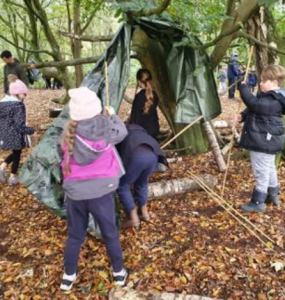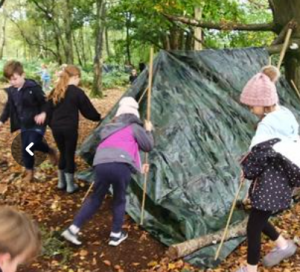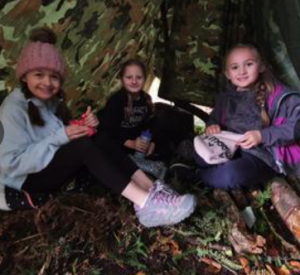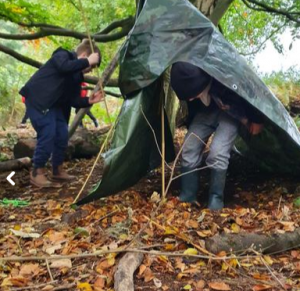 What a day we had at Den-geneers today! The children showed team work, perseverance (when attempt 1, 2 and 3 had failed) and motivation! We loved creating something of our own and being out in nature. Even the rain didn't dampen our spirits! We loved it!
Hellow Yellow Day!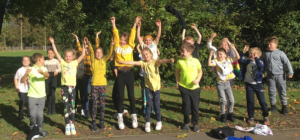 We loved celebrating Hello Yellow Day again today! We read a beautiful story about a boy named Indigo and his worry dragon. We had some wonderful discussions about our worries and talked about some ways to help us deal with these worries. We made a box filled with resources to help us regulate our emotions when we feel anxious and overwhelmed.
We love to celebrate our diversity and uniqueness. 
Welcome back to a new school year! 2022/2023
Welcome back to a brand new school year in Enterprise! This year, alongside all our units, we are going to be focusing on being a TEAM! We are all in this together; we take care, respect and listen to each other.
We start the year with our Healthy Humans unit. Take a look at our web planner to find out all about the exciting things we have planned!
Enterprise 2021 – 2022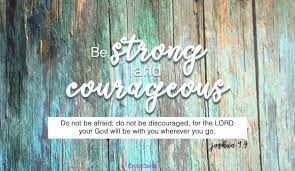 Hunted
Diversity Justice Pride
Our half term starts with Spirituality days. This year our Spirituality days are all about the Fruits of the Spirit. Enterprise class will be focusing on the Fruits of Patience and Joy.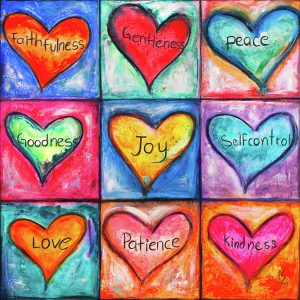 Art Week: Following our two Spirituality day we will be launching into art week with a focus on African Art. This will take over the whole school. We will be taking part in a workshop as well as creating African masked based on our English text, traditional African folk tale "Why the Sun and the Moon live in the sky".
Following Art week we will be creating our own Folk tales in English before moving onto debate writing.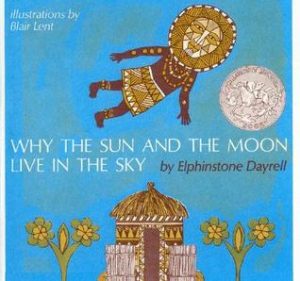 In Science, we will be looking at different food chains and different classifications of animals.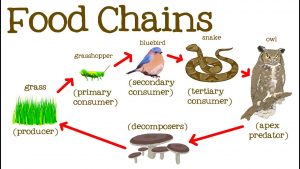 Our R.E focus this half term is, What is prayer? We will be inviting Rev Ann into school to ask her about prayer and which prayers she considers to be the most important.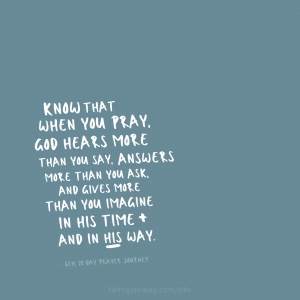 P.E – There is a lot of P.E going on this half term in addition to our usual lessons and Swimming. Keep and eye on the news letter for updates about Fit Fortnight and Sports day.
Year 4 will also be taking their multiplication check. Please click the link below for more information.
https://www.gov.uk/government/publications/multiplication-tables-check-information-for-parents
African Adventures
Connect   Environment   Belonging
In English this half term we will be starting with narrative poetry. We will be willingly walking into the spider's parlor as we explore the poem "The spider and the fly!" by Mary Howitt. The children will be using drama to explore this poem before they innovate a stanza and perform their own versions. Following our poetry, the children will be creating explanation texts about the Biomes of northern Africa.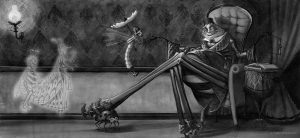 In Science, we will be exploring plants. We will be learning the role each part of the plant has in its survival. We will be experimenting with plants to find out in what environment plants can survive. We will also be learning about the power of pollinators!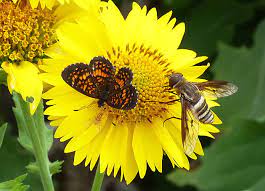 In Geography, Enterprise will be exploring the Biomes and vegetation belts of Northern Africa. We will be learning how to identify these biomes and comparing them.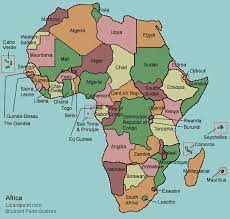 In R.E, we are discussing and exploring the topic 'Are all Churches the same?'. This will see us discuss what happens in our church, Hoole St Michael, as well as looking at different churches within Christianity to compare the traditions and practises. All this will help us to understand what makes a church a church?
This half term Enterprise will continue their Friday swimming lessons but will also enjoy Athletics with Mrs Horn on a Wednesday.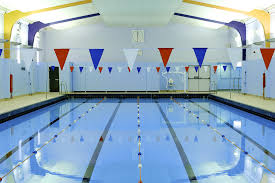 In PSHE this half term the children will be looking at keeping safe.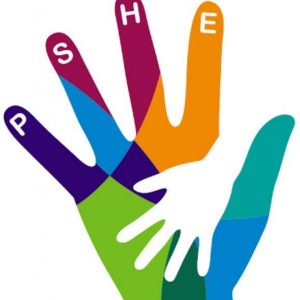 This half term, Enterprise will also be performing at Ewood Park, when they take part in the amazing Let's Go Sing concert.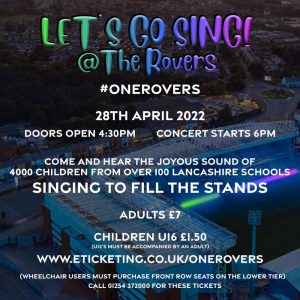 The Three Trees
Enterprise Class were fantastic in their productions of The Three Trees. The children acted and sang beautifully to celebrate the miracle of Easter and Jesus' sacrifice for us. Well Done Enterprise, you are Miss Topping's superstars!
Revolting Children
Enterprise class were fantastic Revolting children at the TARDIS Performing Arts Festival. They danced with every ounce of energy they had to captivate the audience! Miss Topping was incredibly proud of her class, even if they were pretending to be a "little bit naughty".
Walk Like an Egyptian
Ground-breaker    Growth Mindset    Inspired
In English this half term, we will be exploring the exciting novel, Secrets of the Sun King by Emma Carroll. We will be using this fiction text as inspiration for our writing as well as spotting historical references used by the author. We will then move onto our non-fiction writing and be producing information leaflets all about the tourist attractions of Egypt.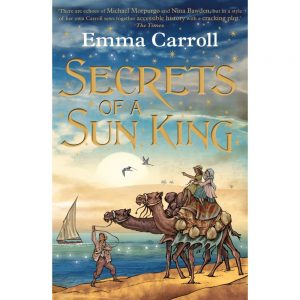 In Science, we are exploring the different states of matter. The children will be observing, comparing and investigating which materials belong to which states of matter and if this can change. We will be looking at temperature and how different temperatures can affect states of matter.
In PSHE we will be looking at safe relationships.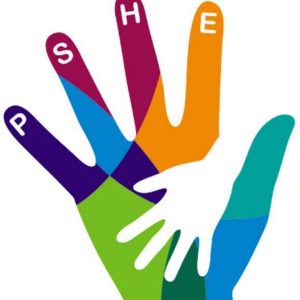 In History this half term, we will be bold archaeologist and be exploring Ancient Egypt. We will be looking at the early civilization and how it survived in such a harsh climate. We will learn about the social hierarchy of Ancient Egypt, who the pharaohs were, what happened to their dead, what a pyramid is as well as who Howard Carter was and why is he so famous?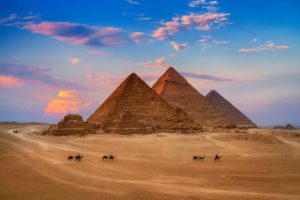 In R.E, we are looking at The sadness and joy of Easter. We will explore the ups and downs of this part of Jesus' life and discuss whether Easter is the beginning or the end.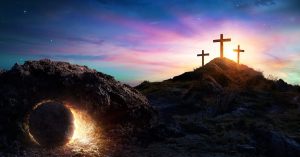 In Geography. Enterprise will be looking at Rivers. They will explore where a river comes from, why it meanders and where do rivers end. They will also look at a rivers impact on the landscape.
Swimming continues this half term.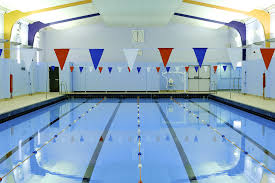 The Three Trees
This half term Enterprise will be performing The Three Trees for our Easter production. Letters will be sent home to parents, along with updates on dojo, regarding tickets and costumes.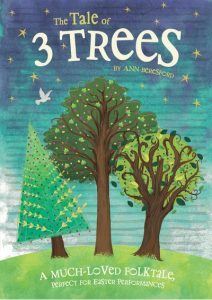 Multi Faith Week
This year KS2 explored the colourful and exciting religion of Hinduism. We learnt about the Trimurti and their creation story, their wives, Ganesh and his tragic story which led him to have the head of an elephant, we learnt about Diwali, Rama and Sita and we finished the week by learning about and having out own Holi Festival. The children loved taking part in Holi, we threw coloured paint, food tasted, created henna designs, made red string bracelets and had time to create symbolic fire collages. We learnt so much this week, if you pop into school we would love to show you are work and talk to you all about it!
Machinery Mayhem
Innovation      Creativity      Wisdom
In English this half term, we are exploring the world of Hugo Cabret. We will be reading all about his story and using his story as part of our Beach Ball Thinking days. Later in the half term, we will be working on our diary writing and continuing to use Hugo's story when writing diaries from his point of view.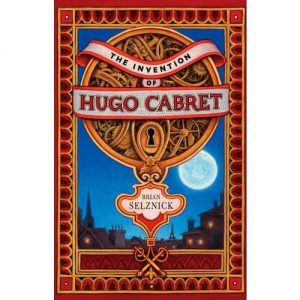 In Science, we are becoming physicist and investigation the forces and magnets in our world. We will be using key vocabulary such as; push, pull, movement, motion, attract, repel, north pole and south pole.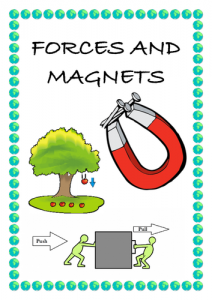 In PSHE  we are exploring how we respect ourselves and other.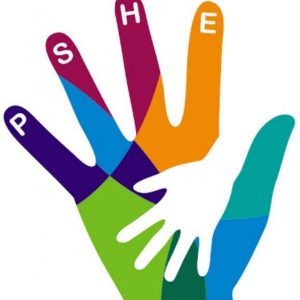 In R.E, our unit is Jesus Son of God. This half term we will be exploring the wonder of Jesus and the miracles he performed. We will look at bible stories that show Jesus' power and Godly strength.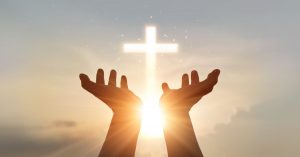 This half term, Enterprise class will be going swimming. Swimming will be every Friday afternoon. Please see the children's swimming letter for full kit information.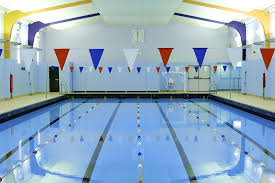 Plague Pandemic
Pandemic        Infection        Optimism
In English, we will begin this half term with fairy tales. Enterprise class will be exploring the fairy tale 'The Pied Piper'. We will then be moving onto our non-fiction text newspapers. We will be linking our English to our History and writing newspaper articles about The Black Plague. Finally, we will be finishing the half term with poetry. Our focus poem is 'Macavity the mystery cat' by T.S.Eliot. We will take our poetry into Christmas week and be writing poems about the Snow Queen in the style of 'Macavity the mystery cat'.
In Science, we are exploring Skeletons! We will be trying to 'Name those bones' as well and look at how they move, the different types of skeletons and comparing skeletons.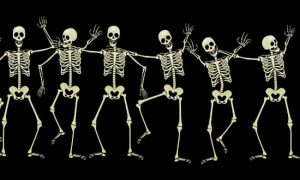 In PSHE, Miss Topping will be teaching us about Growing and Changing, and Respecting ourselves and others.
In Computing we are learning about data handling.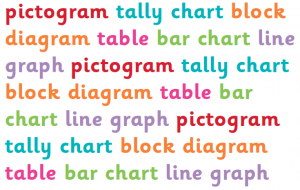 This half term our R.E is Chrismas, God with us. We will spend the unit exploring the key questions; In what way is God with us? How does it feel to be in the presence of God? How does the presence of Jesus impact our live? How do we feel Jesus' presence today?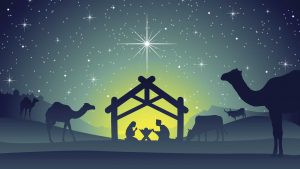 This half terms P.E is Basketball and Hockey.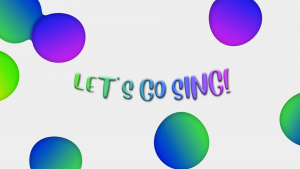 Let's Go Sing is back. Keep an eye on Google Classroom because along with your homework I will be uploading the songs we will be learning in our music lessons!
Terrible Tudors
Perseverance           Heritage           Courage
Writing Week – Black History Month
During writing week we have been busy looking at John Blanke. He was a Tudor musician who played for King Henry VII and King Henry VIII. We also looked at Martin Luther King. We compared him to David and thought about what Martin Luther King would think about the modern day issues of racism.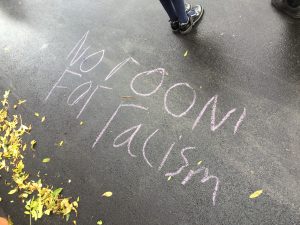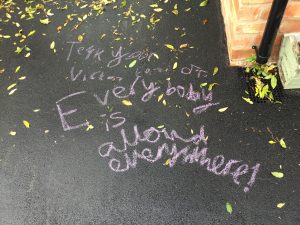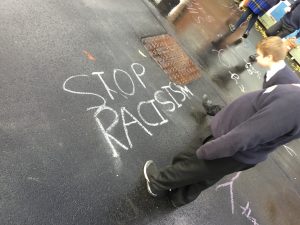 DT – Pneumatic Toys
This half term we had a fantastic time creating pneumatic toys. We designed them for KS1 children but had great fun playing this them ourselves. Miss Topping was so impressed with our perseverance, resilience and teamwork. Have a look at our amazing work.
Tudor Enrichment Day!
Due to unavoidable circumstances our trip to Salmesbury Hall had to be postponed. However we did not let this stop us having an activity filled day. We had a Tudor day in school were we learnt about Pomanders, the Tudor Rose, Tudor food, Tudor shields and even had a go at jousting. Miss Topping sent home learning packs for those children isolating, so they could zoom in and join us. We had a fantastic day!
Hello Yellow!
This year for Hello Yellow day, we reflected on how our SUMO can help us with our mental health. We explored our "Hippo Time" and looked at how "Hippo Time" is great for us but that it needs to end. We discussed different ways we help ourselves feel better and get out of our "Hippo Time". We made Hello Yellow SUMO's so share some of the ways we make ourselves feel better when we are having "Hippo Time".
Project Our Planet
As part of the Project Our Planet scheme, Enterprise learnt about the effect climate change is having on the arctic habitat. We created charcoal drawing depicting the effect this change of habitat was having on the polar bears.
Welcome back to a new half term and a new year at Hoole St Michael. Unfortunately, our learning does not have a peaceful beginning. Our learning this year starts with a terrible feud between two cousins as they fight for many years to claim their right to the throne! Who will be triumphant the House of Lancaster or the House of York? We will find out as we explore the War of the Roses and discover how this event led to the Tudor Royal family.
Keep an eye out for news about our exciting Tudor trip to Salmesbury Hall! – Postponed: Check class dojo for further details!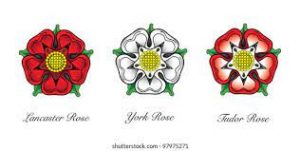 In English we will be exploring Folk Tales. We will discover their author less origins, see how even within the Tudor times Folk Tales existed and have a go at innovating a Folk Tale. We will then move onto Biographies. We will be writing a Biography for one of the most famous members for the Tudor family, a man with six wives! Can you guess who he is?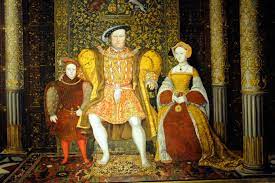 In Geography, we will be looking at the UK. We discover some on the cities and counties in the UK and be using our map work skills as we dive into Lancashire and out local area.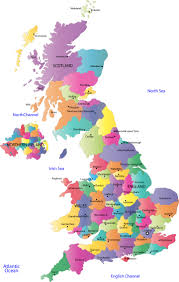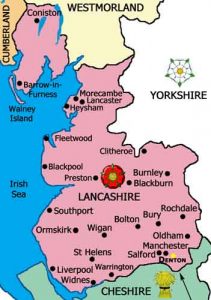 In Science, we will be investigating where light comes from. We will be using vocabulary such as source, opaque, transparent and translucent. We will also discover how a shadow is formed.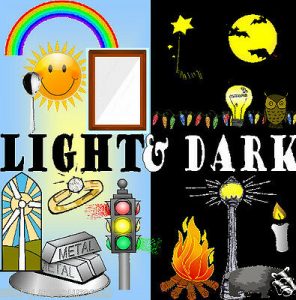 Our Computing is PowerPoint animation, we will be creating information PowerPoint using pictures, sound an videos we have collected ourselves. We will also be learning about the copy right law as part of our digital literacy.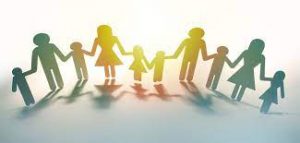 PSHE this half term we will be begin with a SCARF week, exploring new challenges and goals for our year. We will then be looking at Friends and Families. PSHE will be covered with Mrs Horn on a Wednesday afternoon.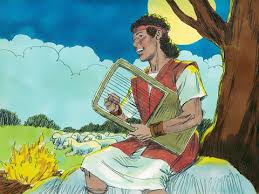 R.E this half term is all about David and God. We will be exploring David's story. We will discuss what God looks for when he calls on someone and explore what we think God saw in David's heart.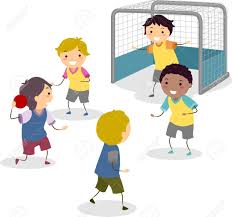 This half term our P.E will be gymnastics and handball.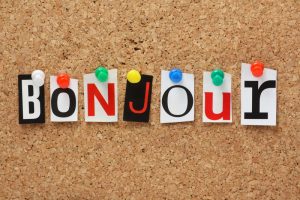 In French, we will be welcoming Year 3 to the language and we explore some French greetings.
Enterprise 2020 – 2021
Sing Together
Enterprise Class have spent a term working very hard learning four different songs to film and perform as part of a virtual Sing together concert. We had a fantastic time learning and performing the songs. Have a look at our performance below!
Sports Day
Enterprise were amazing during Sports Day. They showed courage, endurance and teamwork. We so proud that the children were not only great participators but fantastic friends congratulating each other and cheering each other on.
Spirituality Days – 9th, 10th, 11th June
Enterprise has lots of fun during or Spirituality days. This year we have been focusing on the Trinity, God the Father, God the Son and God the Holy spirit; 3 part of God all making 1 God. We explored this is lots of different ways through writing, bible stories, art and a visit to Church. Have a look at all the fun we had below.
Passport to Europe!
Community      Democracy      Voyage
This half term Enterprise is packing their bags and setting off on a voyage to Italy. We will be linking our learning to our continued History topic of Romans and exploring the countries Capital city, Rome and it surrounding region, Lazio. We will also be taking a small excursion to Naples to learn about the AD 79 eruption of Mount Vesuvius.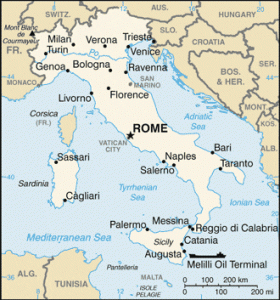 In English, we are off to visit the community of Lilliput. We will be following Gulliver on his travels and exploring the adventures he gets up to. We will then be innovating his story. Our non-fiction for this half term is Non-chronological reports. We will be beginning these in writing week, as we write about Rome!
This half term our DT is Food. Enterprise will be looking at skills needed to create a balanced meal. We will be focusing on chopping, grating, peeling, kneading and baking. Keep an eye out for our Italian Café where parents will have the chance to sample our cooking and where we will be collecting donations for our Class project charity, Christian Aid.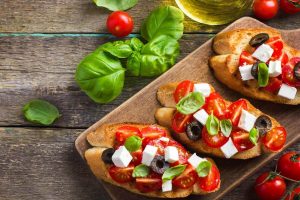 As part of our catch up curriculum, this half term we will be investigating what plants need to survive!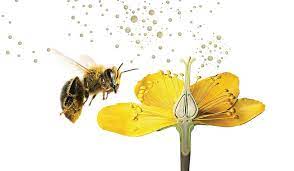 This half terms R.E is Called by God. This unit focuses on the old testament and who God called upon to help him. We will look at the story or Jonah, Samuel, Elijah, Moses and Abraham as well as some more modern faces who were called by God.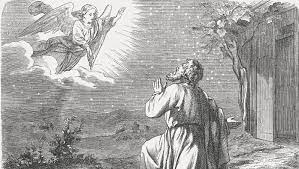 Our PSHE is focusing on us growing and changing. We will be looking at changes that happen in our lives, such as moving house, and learning some first aid!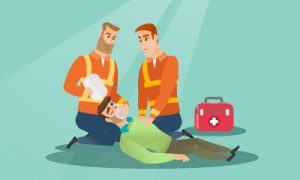 Enterprise Book Vote
The blurbs have been read and votes have been cast. I don't need to do a peg count, it is clear to see that the next class novel Enterprise will dive into is 'The boy who made the world disappear' by Ben Miller.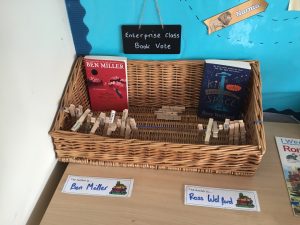 Scoot Safe
Year 3 have had a fantastic time taking part in 'Scoot Safe'. They spent the afternoon learning all about scooter safety, how to check their scooters and took part in a practical skills session.
Rotten Romans!
Pioneer    Conquer    Determined
This half term we are diving into the Roman Empire and exploring the day to day life and invasion of the Roman Empire. Our topic is History and Geography led and will see us learn about Roman solders, Roman inventions, the invasion of Britain and Boudicca.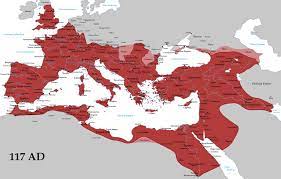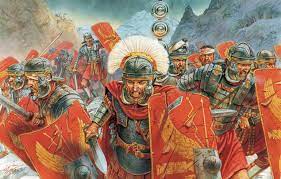 In English we will be learning two different text types, playscripts and non-chronological reports. We will begin the half term looking at Chariots and Champions, a play about Roman Britain written by Julia Donaldson. We will use this text to identify the features of  a playscript, before having a go at writing our own.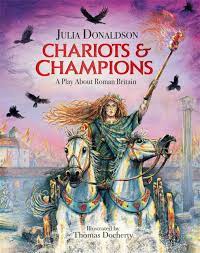 Our non-chronological reports will be produced in the second half of our half term. We will be using our cross curricular learning, applying our Geography and History knowledge to create a report about the Roman Empire.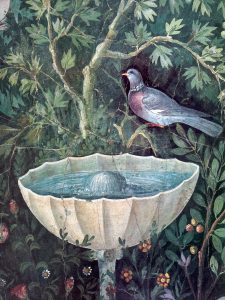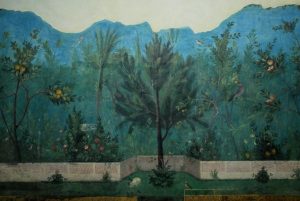 In Art, our focus is painting. Enterprise class will be exploring the Fresco artwork. We will discuss the realism of this artwork and create our own pieces using water colours.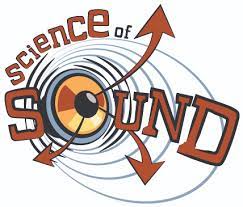 What's that I hear? Sound is our science focus this half term. Enterprise will be learning what sound it, how it is created and how we can manipulate sound.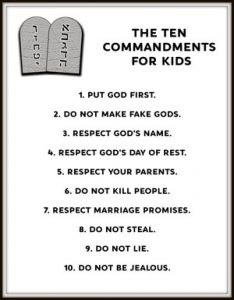 This half terms R.E is "What rules should I follow?" This unit sees the children exploring the ten commandments. The children will reflect upon these and create rules they feel are more suited to their lives.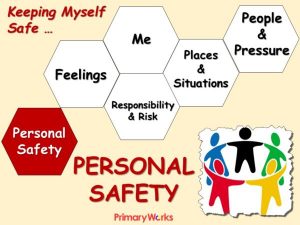 Our PSHE unit this half term is Keeping Safe. We will be looking at how what is a risk and what can keep us safe. We will be discussing how to keep ourselves safe and healthy and we will build upon the life bus workshop visit we had before Christmas.
Class Project
Our class project is Christian Aid – Keep an eye out on Dojo for activities we will be doing in class and around school to help us get our Bronze Global Citizen award!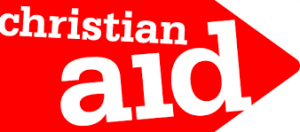 Science Day 2021
This year the theme for Science day was Inventions! The invention that Enterprise decided to focus on was Prosthetics. Year 4 recapped their learning from last year while Year 3 discovered that to make our skeleton move we requires muscles to contract and relax. The children discovered this science had to be applied to prosthetics to make them useful to the wearer. We learnt about Biomechanics in America who are creating prosthetic hands for children using 3D printing. We had a go in our class at applying the science used to make these prosthetics hands move to our own cardboard versions. It really works! Our hands are currently on display on our Science journey display at school for you to use and witness the science for yourselves!
National Reflection Day – 23rd March 2021
During National Reflection Day, Enterprise class had lots of opportunities to be still and reflect in addition to taking part in our schools minute silence. We began the day with a mindful activity where we created rainbows decorated with our positives from Lockdown.
In Enterprise Class we discussed how today was a memorial day were we should think of those who have been lost and those who have loved lost ones but also that today offered us chance to reflect on our own time and think about the positives that are yet to come. Enterprise class created rainbow pots. Each child decorated their pots in the colors of the rainbow that brought them happiness before they chose a flower to plan inside the pot. We chose a flower we would look forward to watching grow just like we would look forward to the beauty yet to come in our future.
Multi Faith Week 2021
This year for Multi faith week Enterprise focused on the Middle East and the faith of Islam. In English, our text was the Middle Eastern Cinderella. We had a great week filled with drama and team work as we compared this version of the traditional tale to the English version.
During our afternoons, we explored where the Middle East was and applied our map work skills to locating the different countries within the Middle East. Did you know that Jesus was born in the Middle East?
We learnt about some aspects of the Islamic faith. We learnt about the Quran, the Kabaa, Ramadan and Eid. We discovered that Islam, Christianity and Judaism are all Abrahamic religions, this means they all share the same faith roots and their holy books share some of the same stories and teachings. We loved using our primary resources, looking at the Quran and prayer mats. The children loved taking part in Wudu, where we washed our hands and face before using these resources.
We ended the week by learning some Arabic, we learnt how to pronounce and write the Christian Values; love, hope, joy and peace before creating Eid decorations. We made the Islamic symbol decorated in colours chosen from some of the Middle Eastern flags.
World Book Day 2021
Although World Book Day had to be celebrated a little differently this year it did not stop us sharing and enjoying a book! This year the theme for World Book Day was Happiness. The day was focused around book that made us happy and could make us forget the world around it.
In Enterprise class we chose the book, "The Secret Garden!" We chose this book as it is all about escaping to a sanctuary of happiness and making sure we have somewhere during times of sadness that we can be to make us happy. Within this book the main character, Mary, has a guiding light in the form of a Robin. He shows Mary the way when times are dark much like God and Jesus does for us. To celebrate him as a character we created Robin artwork. We also designed our own world we would love to escape to to make us happy!
Art of Food
We will start this new half term at home, continuing our usual mix of two live lessons a day and pre-recorded lessons for the rest of the day. All the Zoom links for each lesson can be found on Google Classroom and on our Class Dojo.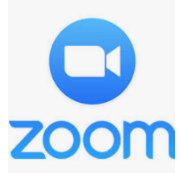 We have some exciting enrichment activities to look forward to, kicking off with Fair Trade Fortnight and then World Book Day.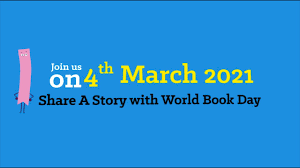 This half term our main focus is our teeth and digestion! We will be exploring the journey our food takes through our body, the organs that help to digest it and the length it travels. Our teeth play a huge role in this and we will be looking at the different teeth humans and other animals have, we will be looking at the purpose of different types of teeth and learning how to care for them.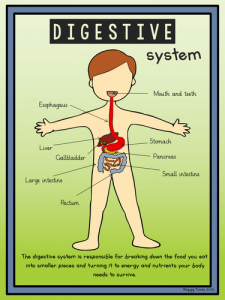 In English, it is all a bit of a dilemma. We will be reading The boy and a bear in a boat. We will be following their journey across the sea and hearing about their dilemmas before innovating the story and making it our own. We will also be creating our own persuasive adverts for a new toothpaste. Keep an eye on our YouTube channel for their release.
In R.E, we are exploring the trust and betrayal of the Easter story. We will discuss how these themes are still happening in our lives and discussing the choices those around Jesus made.
In DT, we are creating packaging for our new toothpaste. We will be using cross-curricular Maths skills to help us to create our new product packaging.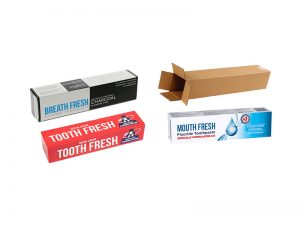 Here are our finished product!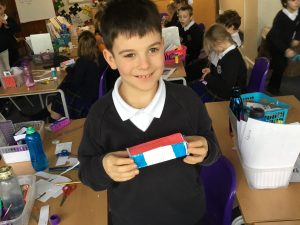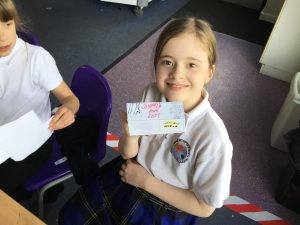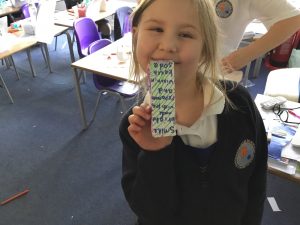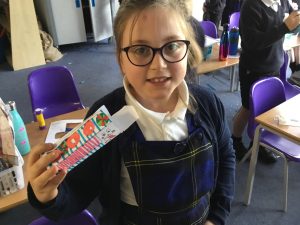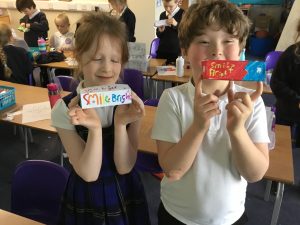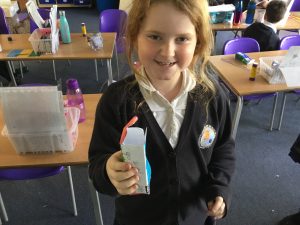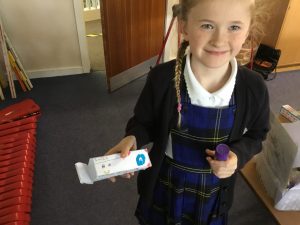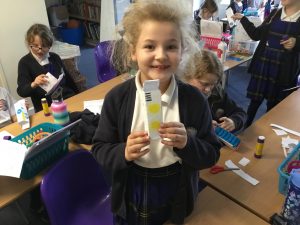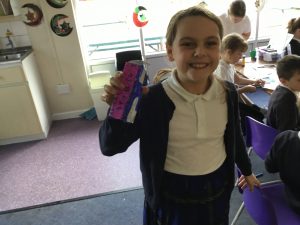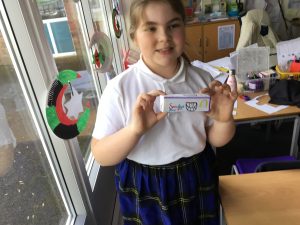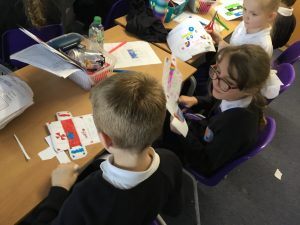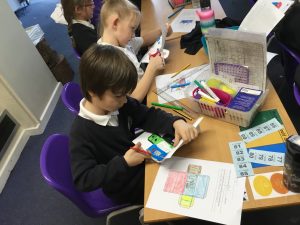 Mental Health Week 2021
In Enterprise class we have dedicated 15 minutes or more each day to our Mental Health. We have explored what our mental health is and a few way that we can help improve our mental health. We have really enjoyed our week taking part in brain break activities such as, reading stories, yoga, tracking our "Mini Wins", sending positivity postcards and taking part in Laughing yoga!
Below are our session incase you want to join us and have a go yourself at helping your mental health.
Rock and Roll
This half term we will be travelling back in time to the resourceful 'rock and roll' Stone Age! We will be exploring the changes and challenges early man had to face to ensure their survival. Our history will take us through the Stone age looking at what early man ate, how they lived, the land they had to cultivate and how they became the first farmers.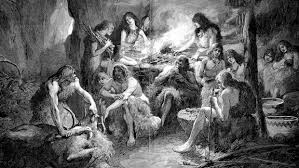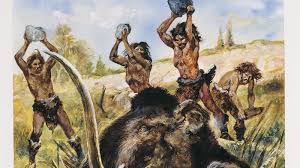 In English we will be looking at three different text types; Poetry, Narrative and Discussion. We will be reading the novel "The Wild Way Home" and incorporating this half terms SPAG focusses; word families, possessive determiners, adverb openers and fronted adverbials for when.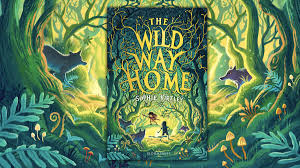 In Maths, we will continue the Mastery of Multiplication and division before Year 3 move onto Money and Statistics and Year 4 to Area and Fraction.

In Science, it is all below ground. Rocks and Soils are our focus this half term. We will explore how different rocks are formed, investigating different rock and soil properties and finding out what really lies beneath our feet.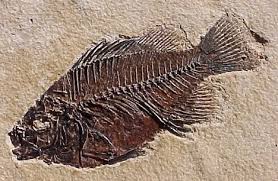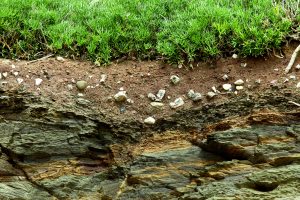 It's a little shaky in Geography this half term as we investigate Earthquakes. We will discover what causes these natural disasters, how they effect our earth, why they happen in certain places in the world and how comminutes adapt and change to live with them.
In Art we are printing! We are taking inspiration from historical cave painting and carvings to create our own Stone Age printing using recycles materials. Our cave printings will tell a story linked to this half terms historical learning.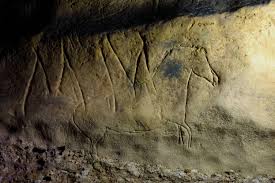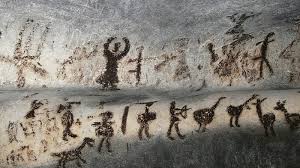 This half term our R.E will be exploring Jesus the man who changed lives. We will look at how he changed lives when he was alive and how he is still changing our lives today.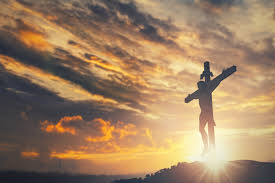 PSHE Scalf week
Enterprise Class loved their visit from the life bus this half term. We learnt all about the brain! We had fun pretending to be our nerves passing on messages, learning what was good for our brains, tested our brain with some mind games and we got to tell Harold everything we had learnt. We loved that lots of things we learnt about we could link to our prior learning in SUMO.
WW2 Week
We loved World War 2 week. It has been a week jam packed with exciting and engaging learning. Our week kicked off with a Air raid, we sheltered under our table and emerged to discover a bomb had landed on the playground! This guided our English learning for the week. We enjoyed a Zoom workshop from a land girl, learning about the home front, learning about black out, modelling and painting poppies, and creating posters for the WVS.
Healthy Humans
This half term we are becoming 'Healthy Humans'. We will be diving into what we need in our diets and following our recovery curriculum looking at animal food chains and what diets animal choose.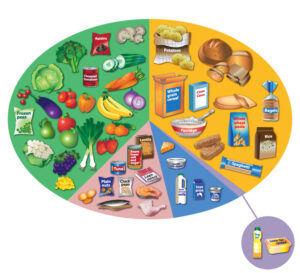 In English this half term, we are beginning by looking at shape poems and calligrams. The children will be learning the features of a shape poem before writing their own based on The Blitz during our Remembrance week. The children will then be moving on to look at Fables. The children will be reading a range of Aesop's Fable but paying particular focus on the Hare and the Tortoise before they innovate it and create their own. Finally we will finish off our half term with persuasive writing. We will be learning all the skills and features needed in this text type before applying them and writing a persuasive letter to one mean, green, Christmas steeling character in our Reading week.
In R.E, we will be looking at the symbolism of light at Christmas. In our Church we are surrounded by light but why is it so important to us as Christians. We will be looking at the power a single light has in a dark room and how Jesus is that light for us in a dark world. We will have a session led by Rev Ann who will explore Jesus being a light that leads the way. She will also be talking to us all about the advent wreath and why there is more than one light on the advent wreath.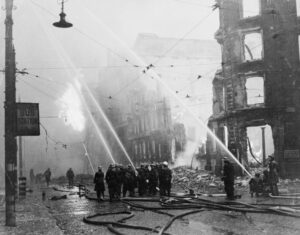 In History this half term, it is all about WW2. During our Remembrance week Enterprise's focus will be on The Blitz and the efforts made by those serving on the home front during WW2.
This half term, P.E taught by Mr Pitcher will be Hockey. P.E Taught by Miss Topping will be Handball.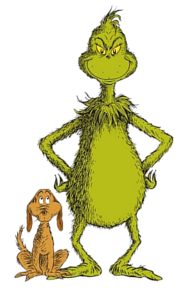 This half term will end with another exciting reading week. This half term its all about 'The Grinch' a classic Christmas story written by Dr Seuss.
Sparks Might Fly!
This half term 'Sparks Might Fly' in our brains as we enter the exciting and dangerous world of Electricity, The Industrial Revolution and Phillip Pullman's writing!
In English, we will be looking at three different text types; explanation texts, a fiction novel and scripts. Our novel for this half term is Phillip Pullman's 'Firework Maker's Daughter' an exciting adventure that we will use as a guide to create our own versions of the story.
In Science, we are looking at Electricity. We will be starting with the sources and the dangers of electricity. During the half term, we will learn about conductors, insulators, cells and currents before finally learning how to build and find faults in a circuit.
In History, it's all about inventions of the industrial revolution; an exciting and innovative period in history that brought us lots of inventions. We still use some of these inventions today, some we use everyday!
In R.E, we will be starting the half term looking at proverbs, lifes golden nuggerts! We will then move on to look at Harvest.
This year on of your P.E lessons will be taught by Mr Pitcher, he will be teaching you Health Related Fitness this half term. Miss Topping will be teaching you Dance.
Home Learning
Here are the links for theme home learning activities this week:
Science – https://www.bbc.co.uk/bitesize/topics/zn22pv4/articles/z3nbcwx
Home Learning Week 1 Summer 2 – English activity – Monday https://vimeo.com/36998393
Hunted!
This half term our theme is Hunted! An action packed topic filled with wildlife, habitats and animals.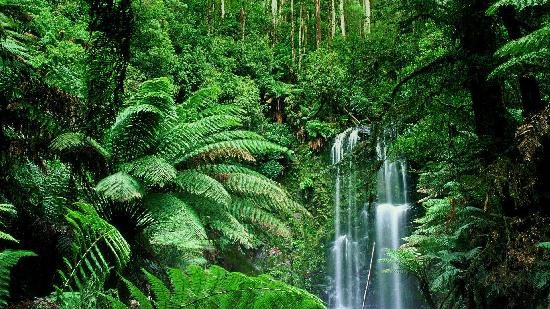 In English we will begin by looking at a video clip titled 'Hunted'. We will be using this clip to form character descriptions, predictions and to generate vocabulary that will be used to create a second part of the story.
We will them be looking at J. K. Rowling's new children's book 'The Ickabog'. We will be exploring this novel until the end of the year, using all our grammar, punctuation and composing skills to create letters, diary entries, predictions and innovate chapters. We will be really showing off out writers skills.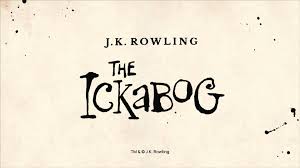 In Science, we will be looking at the classification of animals into vertebrates and invertebrates; also the classification of vertebrate further into mammals, birds, fish, reptiles and insects, focussing on the characteristics of each one. We will be learning what features each group has and what that group needs from its habitat to survive.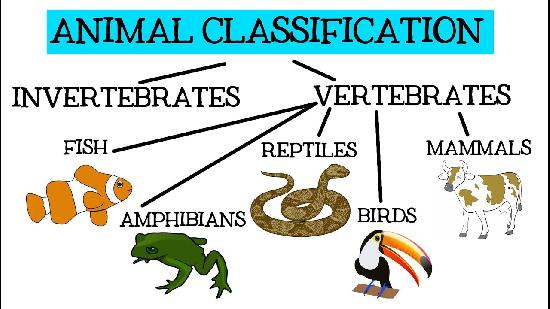 In R.E we will be exploring the question 'What is prayer?'
We will be looking at what prayer means to the children and what it means within Christianity. We will also be comparing this to other religions and seeing if prayer is the same and means the same is other religions.
As we will be beginning this half term home learning, keep an eye on Dojo for Daily updates, messages and home learning links.
Distance Learning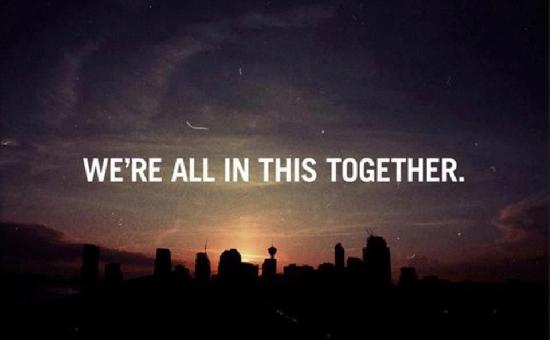 During our time of distance learning I am keeping in contact through Dojo. Thank you for all your comments and messages. I enjoy seeing the children work that they have completed at home and I love seeing that they are using this time to explore other skills such as gardening, baking and even carpentry.
Our maths follows White Rose Maths and we have been using the home learning link to support our learning.
https://whiterosemaths.com/homelearning/
Keep an eye on the portfolio for topic activities. Websites that the children might use to support their activity are:
https://www.bbc.co.uk/bitesize/levels/zbr9wmn
http://www.primaryhomeworkhelp.co.uk/
Remember our priority is our health, stay safe and enjoy this family time together!
How does your garden grow?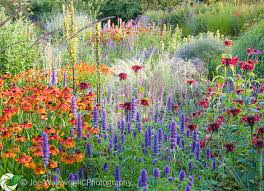 This half term we will be diving into the garden and exploring the miracles that grow there. We will being our garden adventure with the Enid Blyton classic The Enchanted Wood. Along with Joe, Beth and Frannie we will escape into the wood at the bottom of the garden and find the magic within.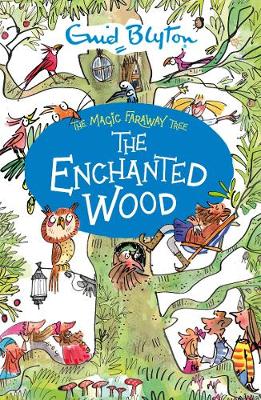 In Science, we will be looking at plants and how they grow. We will look at a plant life cycle, finding out what happens for trees to produce fruits and flowers to flourish. We will be dissecting a plant and exploring the team work of each part that helps the plant to survive. We will also look at what a plant needs to survive and what would happen if we removed something it needed.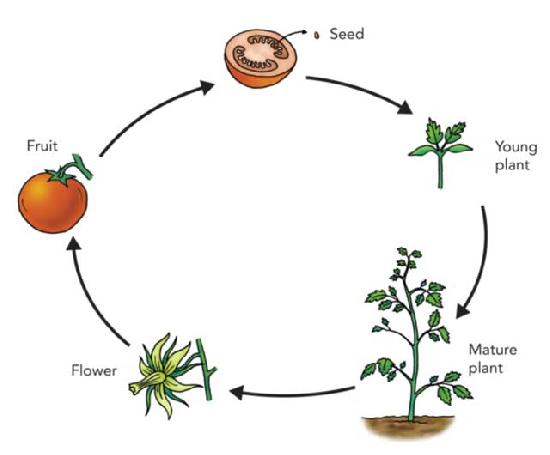 In DT we will be looking at what vegetables grows in our gardens and surrounding farm and producing a plate of food using local produce.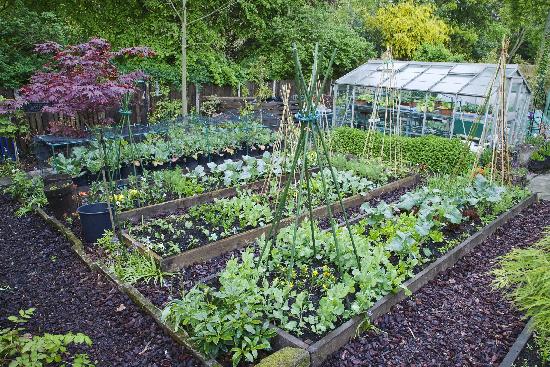 In R.E we will be discussing the word 'Church' and what that means to us a christians. We will look at different places of christian worship as well as other religions to see if there are any any similarities between these places and answering the question "Are all churches the same?"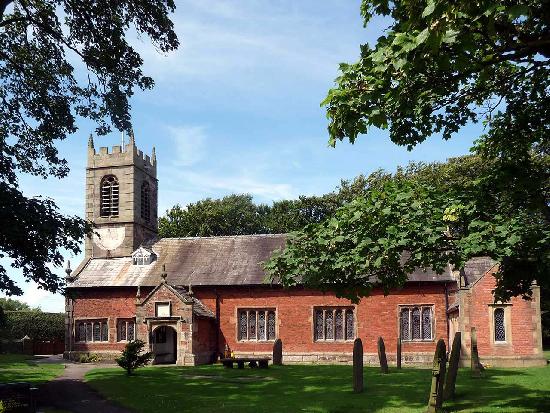 P.E will be the sports coaches and swimming.
Multi Faith Week
We had a great week teaming up with Endeavour for our Multi Faith week! Our trip to the Gurdwara was brilliant, we learnt so much and we were overwhelmed by the generosity of everyone there, thank you everyone at Guru Nanak Cultural Recreation Centre And Sikh Gurdwara for having us.
We finished our week with our own Vaisahki celebration with our parents. We cooked food to share, presented food and took part in traditional dancing.
Iron Man!
This half term Enterprise class will be exploring the topic Iron Man!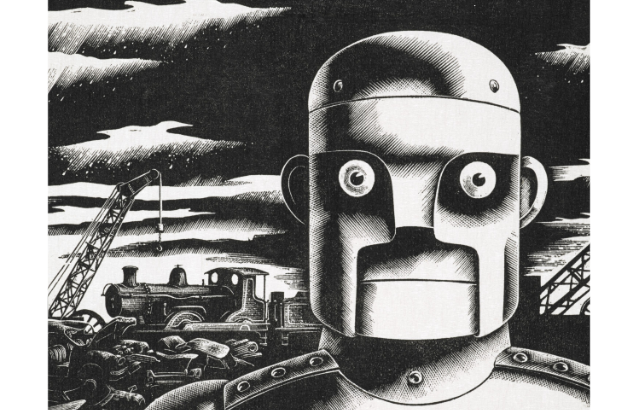 In English we will be exploring the Ted Hughes novel about the mysterious metal creature that appears on the edge of the cliff. We will be creating our own stories using the structure of the text. Later in the term we will be looking at diary entries and using the book 'Diary of a wimpy kid' to help gather inspiration for our own diary entries.
In Science it is all about the forces! in particular magnet. We will be looking at what forces are and what they effect before looking at the forces of magnets.
In ICT we will be programming! We will be learning all about algorithms!
In Design Technology we will be learning how to create linkages and levers. We will be incorporating this skill into our English work and creating pop up books to share with the children in Discovery Class.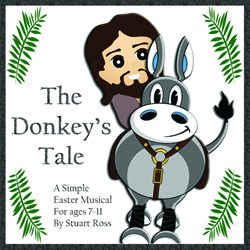 This half term we will be performing our Easter Performance. The children will be practicing their performance during their music lessons this half term. The performance will be on Thursday 2nd April. Look out for letters and Dojos so you don't miss out on the opportunity to reserve your seats.
Multi-faith week
We will be starting the half term with Multi-faith week. The religion we are focussing on is Sikhism! Look out for information on Dojo to invite you to share a traditional meal with us in the HSM Langar – the name of the kitchen in the Gurdwara. Our visit to the Sikh Temple is Tuesday 25th February 2020.
Enterprise – What's New?
Water, Water Everywhere!
This half term we will be looking at all things water! Beginning our journey in Ancient Egypt learning all about the civilisation created their and the benefit the River Nile provided it.
In Geography, we will be exploring water cycle and the journey of the river from its spring to the sea.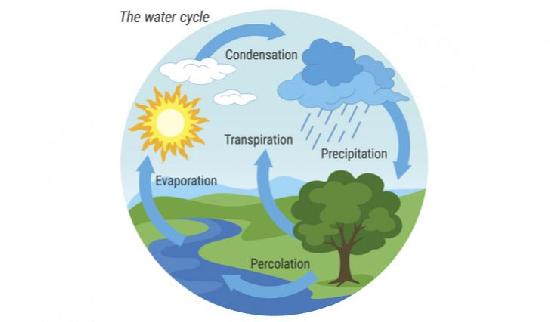 In English, will start with us diving in to the under water world of 'The Water Horse'. Uncovering the magical journey of Crusoe and Angus in the deep lochs of Scotland.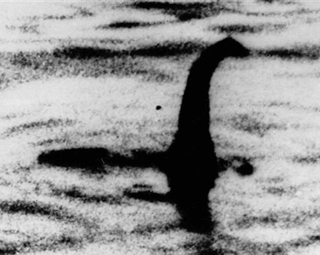 In Science we will be investigation states of matter. The children we be investigating the properties of each state and how in some cases some object can swap between them.
P.E will continue to be on a Thursday. This half term the children will be dancing.
Through the Wardrobe!
The children in Enterprise class loved their Christmas trip to Hesketh Bank Christian Centre to travel through the wardrobe to Narnia!
The children began their day by being evacuated to a 1940's train station. From there they were collected by an employee of the Professor's house and taken to the room containing the magical wardrobe. This is where their adventure really begun!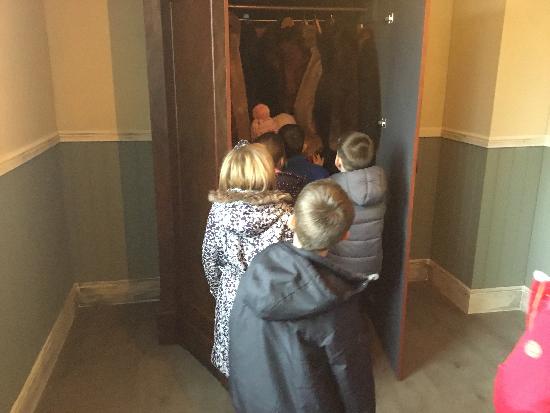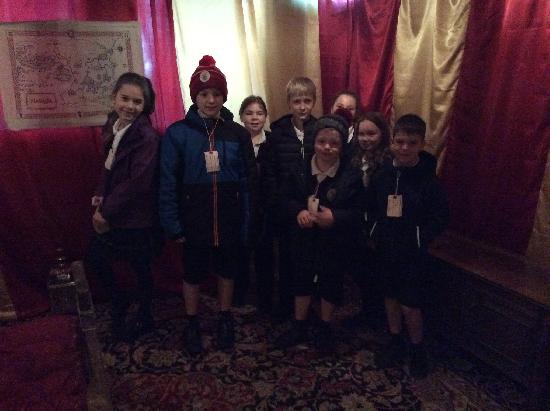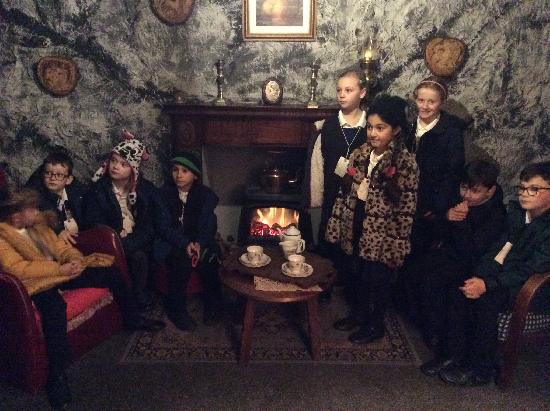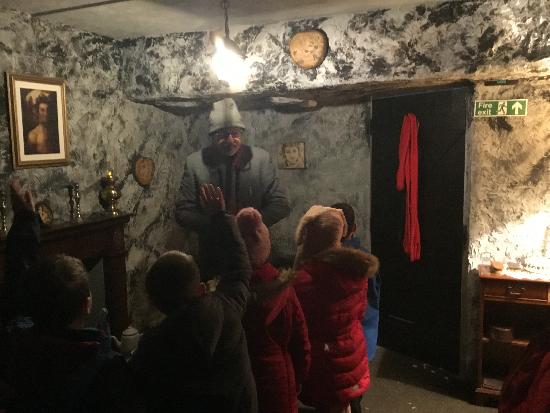 It's a kind of magic!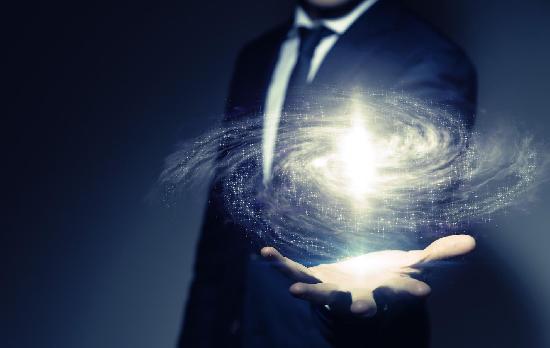 This half term we will be taking off on a magical adventure.
In English, we will be starting the half term by reading Harry Potter and the Philosopher's stone. We will be focusing on character descriptions, newspaper articles and retelling part of the story.
We will also be looking at World War Poems during our themed WW1 week, we will be choosing our favourite to perform and turn into shape poems.
We will be ending the half term looking at the Polar Express and the magic it brings at Christmas.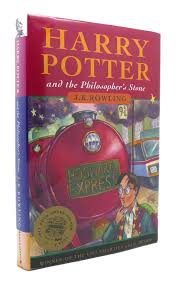 In Science, we will be investigating the skeleton. Questioning how it works, why we need it and learning the scientific names for each of the bones.
In addition we will be learning about light and shadows. Investigating what is light and dark, different light sources, what a light reflector is and how shadows are formed and can change.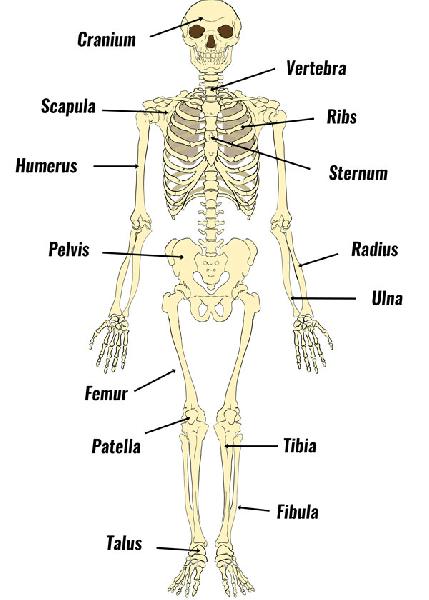 In History, we will be looking at Edward Jenner and his scientific discovery that changed medicine!
Class Prayer
In Enterprise class we have created a class prayer. We thought about what we are thankful for, what we hope for and what we believe is important to pray for. Our class prayer will be used in worship throughout the year.
There's No Place Like Home!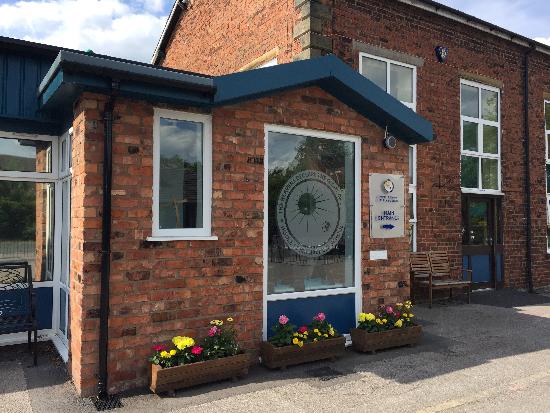 Welcome back to a new school year and a new start this year in Enterprise Class! Our first half term is all about our local area. We will be looking at how our local area has changed over time and developed to become the thriving community it is today. We will also be using our map skills to create a map of our village.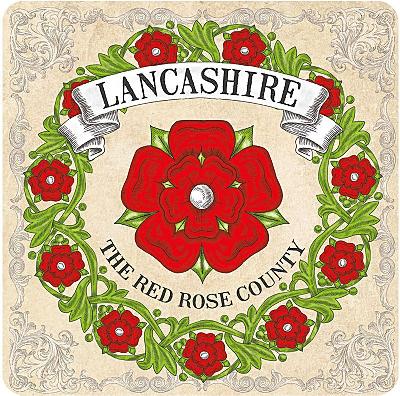 In English we will be learning how to correctly puncuate speech so that we can begin to include it into our writing. We will have two different genres to look at while we do this; folk tales and biographies. While we learn about folk tales we will be reading the local folk tale about the Lancashire giant. For biographies we will be looking at a famous local, can you guess who this might be?
As you may have guessed our Geography this half term is staying local as we will explore our local area looking at the human and physical features.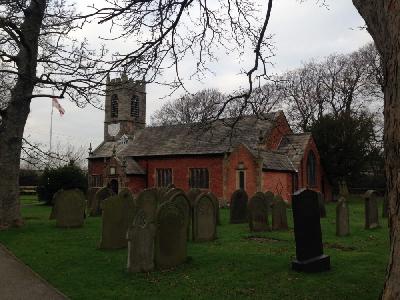 During our first week back, our studies in RE will see us do a join project with Endeavour Class looking at how we can make a difference to our world around us.
In PSHE, we will be starting the year with confidence and using materials from Class Dojo to explore Growth Mindset and how we can make sure we approach each challenge with positivity. We will be exploring techniques to overcome nerves or worry, using Go Noodle to help us with breathing and stretching techniques too. We will explore the use of visualisation to help us overcome times of nervousness or fear.
PE will be on Thursdays as well as our daily run which will take place from 2pm -2.10pm.
Look out for updates on our exciting events in class on Dojo – there will be DAILY updates from us in Enterprise so make sure you find a quiet moment to share our day.