Hoole SM Who's Reading?
http://www.youtube.com/watch?v=EO8wyJKANRI&feature=youtu.be
During our time of isolation Miss Topping and Mrs Cookson have put together a YouTube channel so we can still share stories with you!
Check us out – our channel name is: Hoole SM Who's Reading?
Published Authors
We are published authors!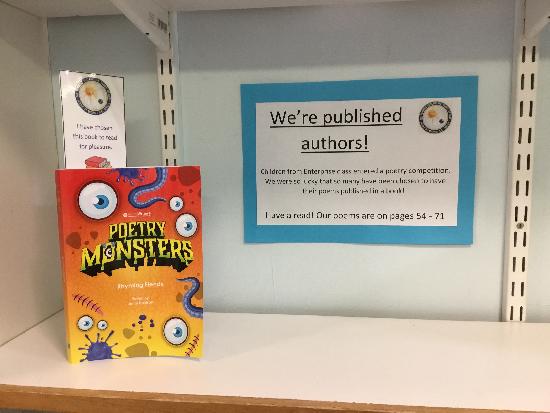 Enterprise class entered a poetry competition to have our 'Monster Poems' publish in a book. We wrote kennings and were thrilled when so many of us were chosen to be published! Our book is on display in our library, come and have a read.
World Book Day!
We had a fantastic World Book Day. This year our theme was 'Wait! That's a book?' Each class focussed on a book that is more commonly known for its film version. The classes took part in different activities and writing opportunities based on the books.
Nursery – Cat and the hat
Reception and KS1 – Alice in Wonderland
Enterprise – Mary Poppins
Endeavour – Indian in the Cupboard (Toy Story)
We also had a Potato Character competition. Lots of children decorated a potato as their favourite book character. We had so many entries! Mrs Price, Miss Topping and Mrs Leaver chose a winner from each class, it wasn't easy as they were all so brilliant.