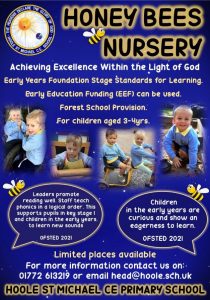 If you would like your child to attend of Nursery please complete the form above.
You can contact school to reserve a place for September 2024:
At Hoole St Michael C of E Primary School we pride ourselves on providing the best possible start for all children within our care. We believe that children are at their most receptive during the first five years of life and it is our duty to support them on their learning journey.
Our Honey Bees Nursery provides a welcoming and stimulating environment for all the children. All our staff have relevant childcare qualifications, ensuring that the learning opportunities are structured and purposeful, proving activities that allow your children to grow and learn.
PLEASE SEE OUR CLASS PAGES FOR MORE INFORMATION.