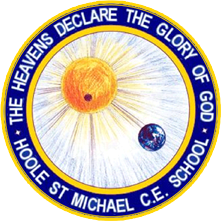 Achieving excellence within the light of God.
Vision Statement
Christ's love is in everything we do at Hoole St Michael.
Our creative and high-attaining Church of England Primary School is safe, loving and supportive.
We encourage the building of good relationships and friendship through respect, tolerance and understanding.
Within our Christian family, where parents are our partners in all aspects of school life, we aim to inspire a love for learning within each and every child.
Bible Verse
I can do all through Christ who strengthens me.
Philippians 4:13
Overall Intent
We encourage our children be bold and courageous in their learning, willing to take risks within a supportive, caring Christian ethos. Our Christian Values underpin everything we do at Hoole St Michael. Hoole St Michael children develop confidence, resilience and a thirst for knowledge to prepare them for the future. As a small Christian family, children build strong relationships, learn to work together and support each other through life's celebrations and challenges. Growth Mindset and Sumo principles teach our children to approach all areas of learning positively. Our children are active learners who thrive when learning outdoors; we provide outdoor learning and Forest School sessions on a weekly basis. Although we are a village school we reach out to develop meaningful partnerships within the local community and wider world. We provide enrichment activities regularly for our children to broaden their experiences and love of learning.
Rules
Rules in school are underpinned by the principles:
Respect – God/property/oneself and others
Try hard – in work and play
School Rules:
Be polite
Work hard
Be kind and thoughtful
Be honest
Look after property
Listen