'Collective worship is a valued and important part of each school day. It is well planned and has considerable
impact on the children's knowledge of Christian teaching. Understanding of the school's Christian values is
enhanced through the children's knowledge of a wide range of biblical stories. They reflect thoughtfully on links
between the teaching of Jesus and their attitudes, behaviour and relationships with each other. Children speak
knowledgably about Jesus' teaching on judgement, the importance of not bearing grudges and knowing that it is
wrong to boast. Spiritual development is nurtured through well-chosen songs and times of prayer and stillness.'
SIAMs 2016
Our Worship Leaders: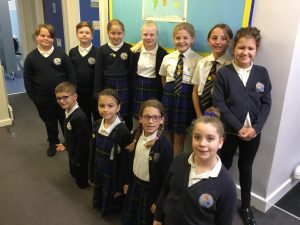 Our Worship Leaders meet with Liz Boland (Youth leader) every week to evaluate our worships and plan special worships in church and in school. They contribute to our worships everyday, suggesting songs, reading bible verse and saying prayers.
We worship together everyday.
Why?
Because…
It openly places God at the centre of daily life in our Church of England School.
Worship is a time when the whole school comes together as a family to focus on God and collectively feel, listen to, experience, celebrate and share.
It provides an opportunity for the school community to develop their own personal relationship with God.
Worship makes an enormous contribution to the ethos of our school, but more importantly, it is the stimulus which flows throughout the whole life of the school.
We focus on a different Christian Value every half term. Our adopted Values are: Generosity, Perseverance, Respect, Service, Compassion, Forgiveness, Friendship, Courage, Trust, Truthfulness, Justice, Hope, Peace and Thankfulness.
These values are embedded in our school policies and school ethos.
Have you had a look at our Christian Values tree in the school hall and entrance porch?
'Children are encouraged to make




contributions within worship, often through drama, but opportunities for children to plan and lead worship are




rare. Parents enjoy attending the weekly celebration worship and there is often standing room only when




services are held in church. Major Christian festivals and important school occasions are celebrated in church.




The link between school and church is seamless and one parent talked of the school, 'Opening doors to faith in




such a way that the children want to find out more'
SIAMs Report 2016
Worship Timetable:
Monday               Mrs Price leads our Christian Values worship each Monday. We explore Christian Values based on 'Roots and Fruits'. It is a wonderful start to our week!
Tuesday               Rev Ann or Liz lead our worship sharing stories from the Bible.
Wednesday        We worship together in class. Our teachers lead worship, based on Picture News exploring current issues, events reflecting on our British Values.
Thursday             Mrs Cookson leads our SUMO and Song worship. We also worship through song! Miss Topping teaches us new songs and revisiting known ones too. Lots of them have actions!
Friday                  Friday is our very special 'Celebration Worship' and our families join us. We celebrate weekly 'Superstars', WWJD and School Awards.
In addition to this, we also have visitors who come and lead worship. We have special services at Christmas and Easter, as well as an annual Leaver's Service.