We hold Spirituality Days because we are a faith school and believe that, because God is the Creator of all things, there are many links to be found between faith and life.
OFSTED is also very interested in the spiritual development of young people in our schools and look for evidence of it in their Inspections.
OFSTED says that a child's spiritual development is shown by the:
ability to be reflective about their own beliefs, religious or otherwise, that inform their perspective on life and their interest in and respect for different people's faiths, feelings and values
sense of enjoyment and fascination in learning about themselves, others and the world around them
use of imagination and creativity in their learning
willingness to reflect on their experiences.
We believe our Spirituality Days, Worship and SMSC lessons, as well as our Religious Education curriculum, help us deliver this.
Thy Kingdom Come Week – June 2023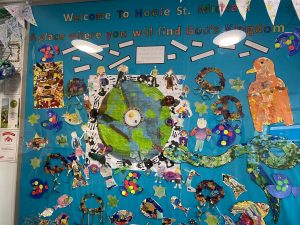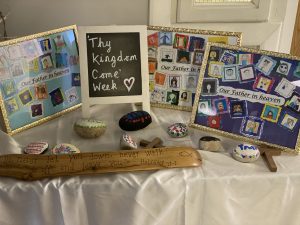 This year, we explored how we could bring God's kingdom to our school. Each class explored how our words and our actions can make this a reality. We used all our work to transform our entrance hall  into school, showing everyone who enters our school that we are all trying to live our God's kingdom on Earth.
Hour of Prayer  June 2023
During our Thy Kingdom Come Week we took part in the diocese wide Hour of Prayer. Each class prayed for the work of the charity Mary's Meals and found out about all their much needed work.

Spirituality Days-9th – 10th June 2022
As a school, we had a day outdoors focusing on praise and thanksgiving! 
We gave thanks for God's creation (joy) by creating our own masterpieces using natural materials and the grass as our canvas. We read the story of "Wonderful Earth" by Butterworth and Inkpen and then worked together to reflect on what brings us happiness in God's world.
We gave thanks for our families and friends and the gift of love. We made paper-chain people and decided who we would like to keep in our prayers, wrote our own ribbon prayers to thank God for someone we love and wrote a prayer of praise for our own treasure box.
We gave thanks for our Christian brothers and sisters around the world. We made Jerusalem crosses, to remind us our faith started in Jerusalem, but has now spread all over the globe. Also to show that the cross is a symbol of Christian faith all over the world. Our 'Static Electric Prayers' were written to enable us to pray for a situation in the news.
We finally, prayed for peace in our world. We thought about the different people in different countries we wanted to pray for. We also wrote down problems in our world and then wrote prayers for them, so we could physically cover the problems with prayers.